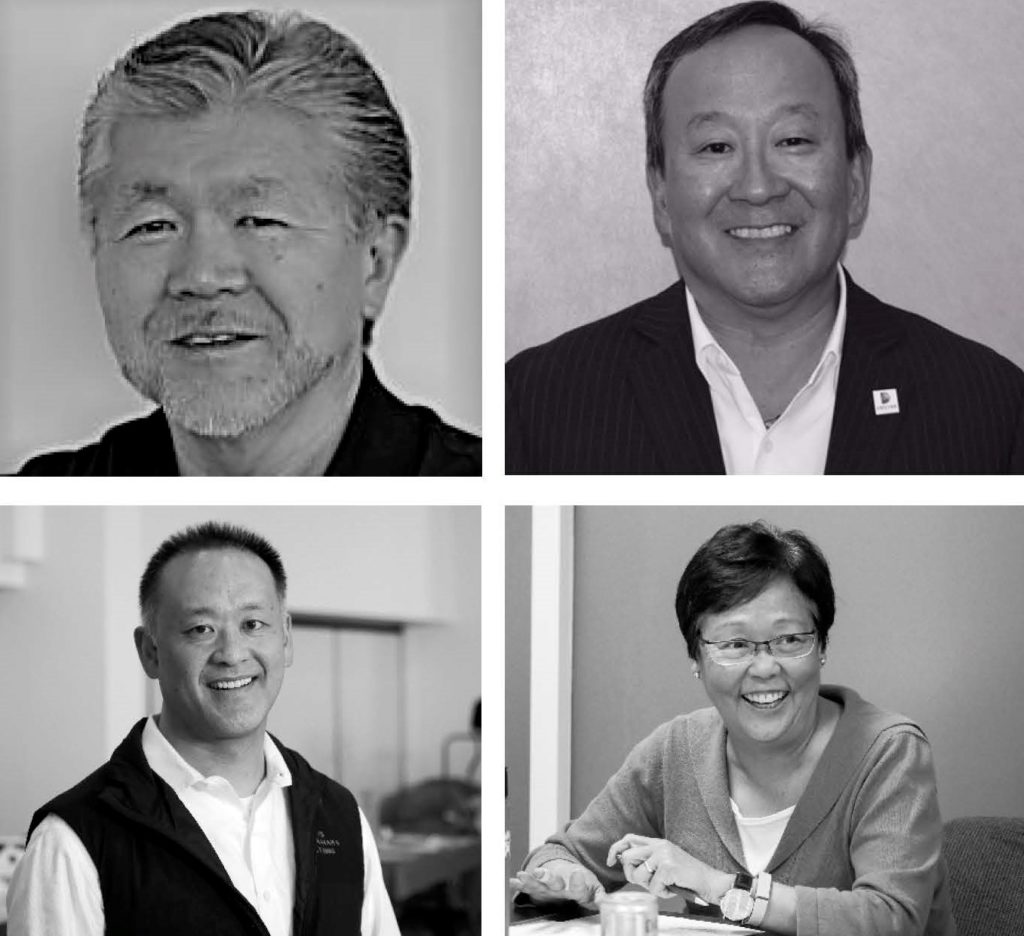 Top Left to Right: Ron Abo, Derek Okubo
Bottom Left to Right: Kenzo Kawanabe, Joni Sakaguchi
Ron Abo
Ron Abo finds being a member of the Sakura Foundation board rewarding because of his 45-year history of being involved in the evolution of Tri-State/Denver Buddhist Temple and Sakura Square.  In the early 1970's, the Denver Urban Renewal Authority declared most of lower downtown Denver to be blighted and property was condemned under eminent domain.  Families and business were uprooted and moved to other locations.  The Temple elders decided to keep the Temple in its downtown location rather than relocate to the suburbs.  They also formed Tri-State Buddhist Church Apartments, Inc. to develop the remainder of the block into what is now Sakura Square and Tamai Tower. In order for the Temple to remain, it would have to conform to the Skyline Urban Renewal design guidelines. The Temple also decided to expand its facility to incorporate a multi-purpose room/gymnasium, commercial kitchen, an entry garden, a lobby and administrative offices.  The ABR Partnership Architects was commissioned to be the architect for the addition and remodeling of the Temple building. Ron and Akira Kawanabe, a member of the Temple, were young architects working for The ABR Partnership.  Ron became the design architect for the Temple expansion project. He hopes his participation on the Sakura Foundation Board will ensure the sustainability of Japanese American cultural heritage on this historic site.
Ron was born in 1946 in Rupert, Idaho.  His father, the first in his family to earn a college degree, turned to farming after serving with the 442th Regimental Combat Team in WWII.  When Ron was six years old his family moved to Denver where his father operated a gas station and garage.  Ron graduated from North High School and the University of Colorado School of Architecture to fulfill a dream of his father's to become an architect.
After working for several architectural firms in Denver, Ron established his own architectural practice in 1976 and continues to practice as principal architect for The Abo Group, Inc.  Notable projects that Ron has worked on are the Airside Concourse Buildings for Denver International Airport, Curtis Park Housing Redevelopment, Morrison Center for the Denver Botanic Gardens, Tropical Discovery at the Denver Zoo, Highland Square at 32ndand Lowell and Tennyson Terrace at Elitch Gardens.
In 1978, Ron began studying Aikido.  Ron and his wife Lisa founded the Denver Buddhist Temple Aikido dojo in 1994. Currently he, Lisa and their son Ryan teach Aikido at the Temple.  In 2014, Ron and Seiji Tanaka Shihan formed the Tomiki Sport Aikido Association USA. Ron is Shihan-dai and president of the board.  He holds the rank of rokudan (6thdegree black belt) in Tomiki Aikido.  He has served on many other boards and commissions and is currently the President of the Board of Trustees for Savio House, a child welfare agency and is a member of the Wheat Ridge Building Code Review Committee.  Ron has five children and three grandchildren.  He enjoys skiing, golfing, fishing, boating, camping and riding his Harley Davidson motorcycle.

Kenzo Kawanabe
Through Sakura Foundation, Kenzo Kawanabe is able to give back to the community that has given him so much.  He is a fourth-generation Coloradan from the San Luis Valley.  He grew up attending the La Jara Buddhist Temple, graduated from the University of Colorado and then Georgetown University Law School.  Kenzo is a partner at Davis Graham & Stubbs LLP (DGS), one of Colorado's oldest and largest law firms.  He is a trial lawyer who represents clients in a variety of matters relating to commercial disputes, mass torts, and intellectual property.  Kenzo is consistently ranked as one of the best commercial attorneys in the region, is a Fellow of the American College of Trial Lawyers and teaches at the National Institute of Trial Advocacy.  Prior to joining DGS, he served as a law clerk for the Honorable Mary J. Mullarkey, Chief Justice of the Colorado Supreme Court.
Kenzo dedicates significant time to community service and served as the first-ever General Counsel for the National Asian Pacific American Bar Association, as well as on the Boards of the Center for Legal Inclusiveness, Colorado Lawyers Committee (Board Chair), and Colorado Legal Services.  He proudly serves on the Board of Sakura Foundation and Sakura Square LLC.  In addition, he has served on the Boards of the Boettcher Foundation (Board Chair), Denver Foundation (Board Chair), Colorado Bar Association, Denver Bar Association, Community Resource Center, Colorado Nonprofit Development Center, and Asian Americans Advancing Justice in Washington DC.  Kenzo's favorite activity is spending time and traveling with his family including his wife (Irene), two daughters (Mika and Aya) and 80-pound dog (Fozzie).

Derek Okubo
Derek Okubo is involved with Sakura Foundation because it is intimately linked with Denver's Japanese American history and, through its current efforts, connected to the future of Japanese Americans in the community. In addition, Sakura Foundation is the only Japanese American-based foundation in Denver – and is inclusive and supportive of efforts among all communities.
Derek is a Colorado native and was raised in Littleton, Colorado, graduating from Arapahoe High School. He attended the University of Northern Colorado and graduated with a degree in Psychology and double minors in Communications and Sociology.
Following a summer internship at Big Brothers of Metropolitan Denver, Derek was hired by the agency as the services coordinator for Denver County. While at Big Brothers he led numerous trainings on collaboration, program development and social skills building for the State of Colorado. As a result, Derek was recruited to join Governor Roy Romer's staff as a community liaison to northeast Colorado where he focused on local coalition building to address issues such as substance abuse prevention, health services and youth violence reduction.
After facilitating a meeting for one of Governor Romer's advisory committees, Derek was recruited to join the National Civic League (NCL) as the Assistant Director of Community Services. Through the next 19 years, Derek rose through the NCL ranks, becoming the Senior Vice President where he oversaw NCL's projects and programs.
In July 2011, Derek was appointed as Executive Director of the Agency for Human Rights and Community Partnerships (HRCP) by Mayor Michael B. Hancock. HRCP was established in 1947 to investigate and address race and equity conditions of that time. In his role as Executive Director, Derek oversees ten city offices (the Denver Offices of: Anti-Discrimination, Disability Rights, Equity and Social Innovation, Immigrant and Refugee Affairs, Aging, Community Affairs, Sign Language Services, Strategic Partnerships, Story Telling and Financial Empowerment) and 10 mayoral appointed advisory commissions. Each 21-member commission advises Derek and Mayor Hancock on community issues and strategies to provide positive impacts in addressing those issues.

Joni Sakaguchi
A Colorado native, Joni Sakaguchi was born and raised in the Denver metro area. She received a BA in History from Colorado College and an MA in International Studies from the University of Denver's Josef Korbel School of International Studies. After graduate school she worked as an economist for the U.S. Department of Labor's Trade Adjustment Program for several years in Washington DC. Marriage and family brought her back to Denver. She recently retired from the University of Colorado's Center for Asian Studies.
Joni grew up in the Denver Buddhist Temple, so when she returned to Denver from DC she re-immersed herself in sangha (i.e. congregation) activities. Joni has served in various capacities such as Dharma School Co-Superintendent, Temple Board member and Temple Board Co-President.  In addition, she was a member of the Nokotsudo Committee, which planned and built the special area in the Temple for the storage of the ashes of loved ones.  Most significantly, Joni volunteered as the Co-Chair of the annual Cherry Blossom Festival for 15 years.  This cultural festival is the Temple's largest fundraiser each year. It first began in 1972 in Sakura Square and brings in attendees from all over the state to share in the entertainment, arts, food, wares and history of the Japanese/Japanese American community. Even after retiring as co-chair, Joni remains a vital contributor to the festival.
For more than 20 years, Joni has been a teacher with Chibi no Gakko, Denver's Japanese American Cultural Heritage School. This community-based program provides children the opportunity to explore the Japanese American experience in a fun, "hands on" way. Students explore their personal family history, cook, sing, dance, read, write and participate in arts and crafts activities which are all rooted in the Japanese heritage and culture.
Joni is an avid quilter and crafter. She enjoyed sewing for her son and daughter as they were growing up and has now turned her attention to creating gifts for her young grandson.
Joni considers it a privilege to be a member of the Sakura Foundation Board. She feels it is a rewarding experience to become more involved in community activities, especially in her role as chairperson of the Foundation's Cultural Programming Committee. She asserts that honoring and continuing the legacy of the Japanese American experience in Denver and Colorado is important in ensuring a strong future for the community.