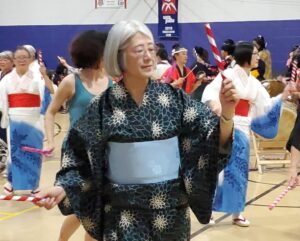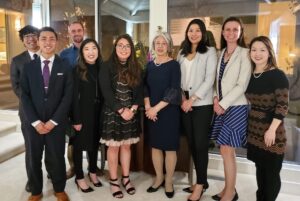 CG Takeuchi dancing at Obon and with the MGLP Class of 2019
From her arrival to Denver in November of 2018, Consul-General of Japan Midori Takeuchi has been a great supporter of Sakura Foundation, the Japanese and Japanese American communities, and the greater Asian and Denver communities.  She opened the 2019 Cherry Blossom Festival (which we are happy she was able to attend before the pandemic forced us to cancel the festivals in 2020 and 2021) and a staunch supporter of our Mirai Generations Leadership Program.  CG Takeuchi has been a regular congregant at Simpson United Methodist Church where she shared her beautiful voice as a choir member and volunteered at church clean up days.  She also supported events hosted by Denver-Takayama Sister Cities Committee, Japan American Society of Colorado, Denver Public Schools' Asian Education Advisory Counsel, Asian Chamber of Commerce (ACC), and many other organizations.
Denver has had many CGs over the years, but CG Takeuchi has definitely made a lasting impact on Denver.  Her eagerness to become involved in the community and her range of activities – from hosting a reception to celebrate Emperor Akihito's birthday to handing out meals at the ACC Gala-to-Go last year – are greatly appreciated.  The bonds she has strengthened between the states in her jurisdiction (Colorado, New Mexico, Utah, and Wyoming) and Japan are a testament to her skills, compassion, and expertise.
We wish CG Takeuchi all the best as she heads back to Japan before her next assignment.  We hope she will be able to visit us again soon.