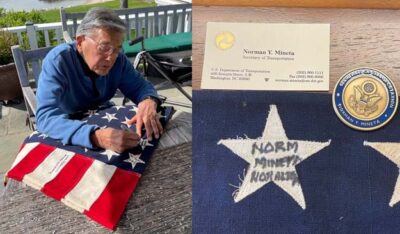 Secretary Norman Mineta adds his name to the flag
On Sunday, October 3, 2021, survivors of the Internment of Japanese and Japanese Americans will arrive at Simpson United Methodist Church in Arvada, CO and make their way to tents set up in the parking lot.  They will don masks, pick up a pen, and add their names to one of several 48-star American flags to commemorate their experiences and sacrifices during WWII as they lived for years behind barbed wire.  The Flag Signing Project, initiated by Santa Clara County Superior Court Judge Johnny Gogo is being sponsored in Colorado by Sakura Foundation and Simpson United Methodist Church.  The flags have traveled to Seattle, Palo Alto, San Jose, and Los Angeles.  Judge Gogo hopes to add more cities to his travels in order to reach as many Internees as possible.  This project not only highlights the injustices of the Internment, but serves to educate communities around the country.
Here are articles which further explain the Flag Signing Project: 
48-Star Flag Signing Project by Johnny Cepeda Gogo
Why a Santa Clara County judge is having people sign a U.S. flag
If you were an Internee of a camp and/or relocation center we encourage you to register in advance for this event here.  If you know of an Internee, please share this information with them.
NOTE:  Due to the pandemic, masks are required and social distancing will be observed.