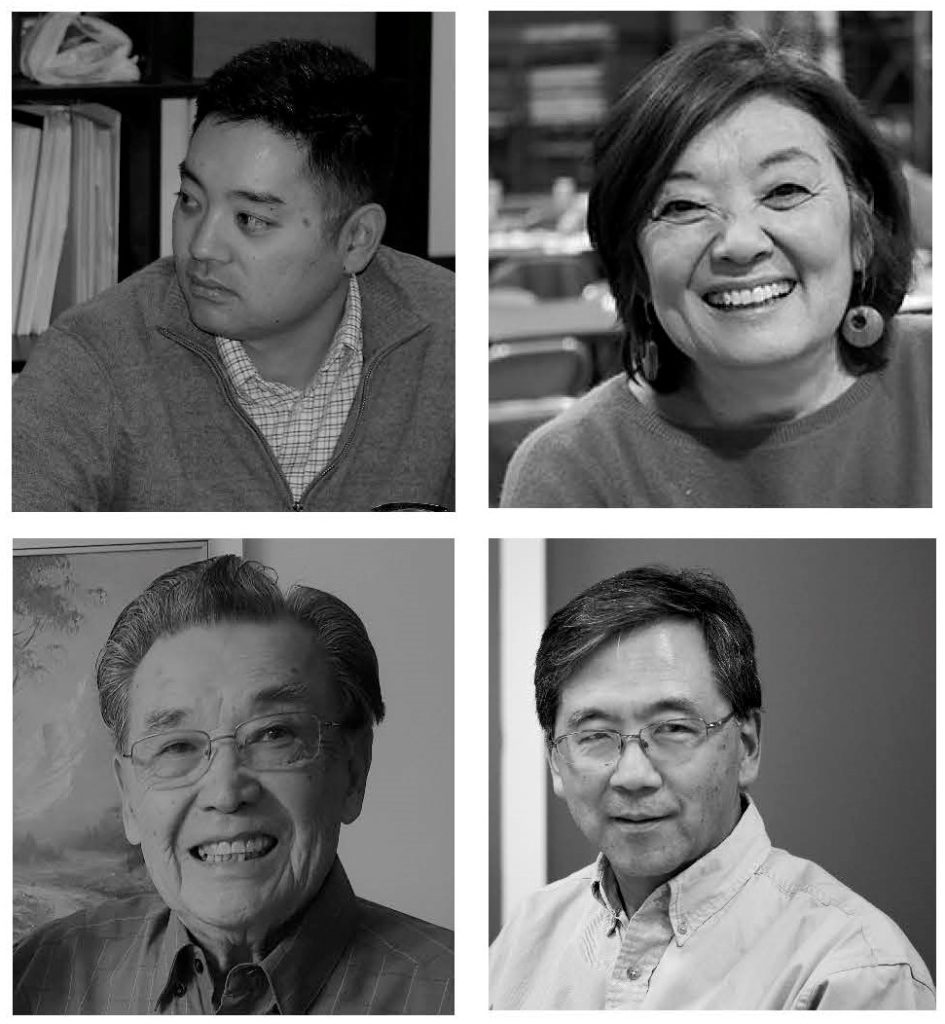 Top Left to Right: Drew Domoto, DJ Ida
Bottom Left to Right: Eddie Nozawa, Tom Migaki
Drew Domoto is a fourth generation Colorado native. Growing up, Drew fondly recalls participating in karate demonstrations during Cherry Blossom Festival, participating in Chibi no Gakko (Japanese cultural school), and understanding the important role the Japanese American (JA) community played in the lives of his parents and grandparents. Today, as a Sakura Foundation board member, Drew is involved in selecting participants for the Mirai Generations Leadership Program, which is instrumental in cultivating emerging leaders within the local JA community. He believes organizations such as Sakura Foundation are increasingly important, not only in bringing awareness to the historical journey of the JA community, but also in shaping a future based on cultural understanding and social equity. Drew feels it is important ­­to ensure that diverse voices and perspectives continue to have a seat at the table as Denver and Colorado evolve, thereby ensuring that the fabric of Denver's JA community is preserved and positioned to flourish.
Drew is the Principal and Founder of Domoto Brands, a sustainability-focused branding, strategy, and marketing communications consulting firm based in Denver. Founded in 2011, Domoto Brands is proud to be a Certified B-Corporation which uses the power of business to better the world. Domoto Brands serves clientele including Fortune 500 companies, startup ventures, political campaigns, universities, nonprofit organizations, charitable foundations and municipalities. Prior to starting Domoto Brands, Drew worked domestically in large agencies and boutique consultancies, as well as spearheaded an intrapreneurial venture focused on sustainable brand development. Drew has also worked internationally to re-brand a historic abbey in France's Loire Valley, and served as Creative Director for a winery brand while in Paris.
Drew holds a Bachelor of Fine Arts degree in Visual Communications from Jacksonville University and an MBA with dual concentrations in Marketing and Managing for Sustainability from the University of Colorado Denver, as well as a Certificate in Entrepreneurial Studies from the Bard Center for Entrepreneurship at the University of Colorado Denver. Drew is a frequent speaker on branding, design, entrepreneurship and sustainability at events including the Berkshire Hathaway Sustainability Summit, Lifestyles of Health and Sustainability (LOHAS), and Denver Startup Week. Drew often serves as a speaker and event panelist at education institutions including Johnson & Whales University, Metropolitan State University of Denver and the University of Colorado Denver. Drew is a former member of the Art Directors Club of Denver Board of Directors and currently sits on the University of Colorado Denver Managing for Sustainability Advisory Council.
DJ Ida is a third generation Japanese American (JA), who was born and raised in Denver.  As a child she grew up attending the Tri-State/Denver Buddhist Temple (TS/DBT) and as an adult worked with the broader Asian American community.  Her lifelong commitment with both communities is the key reason why she enjoys serving on the Sakura Foundation and Sakura Square LLC Boards, particularly at this time during the redevelopment of Sakura Square.  Like others, she recognizes the unique opportunity to play a role in preserving the history of Sakura Square so future generations will know what a special place it has been and the significance it plays in the remembering the Issei and Nissei in Denver and Colorado.
Growing up in the JA community played a major role in influencing her decisions at both the personal and professional levels.  She received her doctorate in clinical psychology and has over 35 years' experience with Asian American/Pacific Islanders at the local, state and national levels.  She was the youth advisor at TS/DBT for almost 20 years.  DJ also helped establish and develop numerous organizations including the Asian American EOP on the Boulder campus, the Asian Pacific Development Center (APDC) in Denver and the National Asian American Pacific Islander Mental Health Association (NAAPIMHA) where she serves as Executive Director.  Empowering the community and developing leadership has been key to much of her work, whether developing training programs, conducting clinical work with at risk youth, or developing policies that improve the cultural competence of providers to increase access to quality of care for Asian American Native Hawaiian Pacific Islanders (AANHPIs).  She has authored numerous articles and policy papers including Integrated Care for AANHPIs:  A Blueprint for Action for the Office of Minority Health and in 2008 was a contributing author for Eliminating Disparities for People of Color for the President's New Freedom Commission on Mental Health.
DJ has written curricula to train providers on how to provide culturally and linguistically competent care, paraprofessionals to become Wellness Coaches, and bi-lingual individuals to be interpreters in mental health settings.  Working with community organizations around the country has not only brought her incredible joy but has also helped her clarify what it means to be a leader.
Serving on the Sakura Foundation Board attracted Tom Migaki's attention because he is a sansei and Denver native and grew up frequently visiting the Sakura Square block every weekend. His grandparents, Daisuke and Naka Migaki owned Rocky Mountain Cleaners at 1948 Larimer Street prior to Urban Renewal. Part of his history and community legacy is tied to Sakura Square.
Tom retired from the City and County of Denver in 2018. He served as a Cabinet Member to former Mayor Wellington Webb, as Manager of the Department of General Services from 1999 to 2003 and was the first Asian American appointed to a Denver City Cabinet Position and as Acting Mayor on three occasions for a total duration of one month. His previous experience with the City and County of Denver also includes an appointment by Mayor Webb as Director of Denver Motor Vehicle Division and an appointment by Auditor Webb as Director of Accounting in the Office of the Auditor. He served in the Career Service positions of Financial Management Specialist in the Budget Office and Project Manager at Stapleton International Airport. Prior to working for the City, Tom worked for an Oil and Gas company, CPA firm and Channel 9.
Tom received his MBA in Accounting and Finance from Regis University, a BS in Business Administration-Accounting from the University of Northern Colorado and is a licensed CPA, Real Estate Broker and Insurance Producer. He is active on public sector, community and non-profit boards as follows:  Board Member of Sakura Foundation,  Past President and current Board Member of the Mile High Chapter of the Japanese American Citizens League (JACL), current appointee to the Denver Public Schools Bond Oversight Committee, Former Treasurer and Former Board Member of the Mountain Plains District Council of the JACL (District was dissolved), 2005 Japanese American Leadership Delegate (JALD) to Japan (first to participate from the Denver Japanese Consulate Office), participated in the Japanese American Leaders and Consuls General of Japan/Japanese Ambassador meetings (2003-2009), Member of U.S.-Japan Council, Council Member and past Chair to the Asian Education Advisory Council (AEAC) of Denver Public Schools, Past Board Member and Former Chair of the Denver Employee Retirement Plan, Past Board Member and Former Chair of the Asian Chamber of Commerce, Board Member of Nikkeijin Kai (formerly the Japanese American Association of Colorado), Board Member of Japan America Society of Colorado, Past Board Member of Visit Denver (Denver Metro Convention and Visitors Bureau), Past Board Member of Denver Sister Cities International and Past Board Member of the Rocky Mountain Minority Supplier Development Council.
Tom completed Harvard University's John F. Kennedy School of Government Program for Senior Executives in State and Local Government, Leadership Denver and Denver Community Leadership Forum.  He has been awarded the Martin Luther King Business Social Responsibility Award, Minoru Yasui Community Volunteer Award, Mile High JACL Pacesetter Award, Wells Fargo Bank Asian Pacific Islander Employee Resource Group Award, Denver Public Schools AEAC Community Service Award, Colorado Asian Pacific American Bar Foundation Minoru Yasui Award and Philippine/Asian American Times Certificate of Appreciation.
Tom and his wife, Shelley Migaki, have a daughter, JoAnne. In his free time he enjoys skiing, fishing, hunting, traveling and restoring classic cars and tractors.
Eddie Nozawa was born in Los Angeles, CA.  As a result of Executive Order 9066 which ordered Japanese and Japanese Americans to be incarcerated, Eddie was sent to Santa Anita Racetrack, Amache and finally Tule Lake Internment Camp during WWII.  After the war he attended grammar and high school in Chicago, IL.  Eddie was drafted into the Army in 1954 and served for two years in Ft. Hood, Texas Artillery Division.  He then attended DeVry Tech, worked for Unisys Corporation, Neodata Subscription offices and at Lowry Air Force Base along with other regional bases in Wyoming, South Dakota, New Mexico, California, Oregon and Washington.  In 1988 Eddie became the owner of Nozawa Distributing, Inc.
In 1960 Eddie married his wife Jeanne and soon after started taking his children, Debby and Gary, to Dharma School at the Temple.  He was involved in a variety of Tri-State/Denver Buddhist Temple activities.  He was elected on to the Tri-State Buddhist Church Apartments Inc. (TSBCAI) Board of Directors in 1972 as the first non-charter board member.  (In 2014, the focus of TSBCAI was revised to its current culturally charitable mission and was renamed Sakura Foundation.)  Eddie has a long history and connection to the Temple and the JA community in Denver.  He is an original member of the DBAC Golf Club and in his spare time enjoys attending Denver Nuggets games and watching his grandchildren participate in school and sport activities.
Eddie has fond memories of going to the Japanese restaurant on Lincoln Street after community meetings to have snacks and drinks to end the night with his fellow board members.  He hopes that Sakura Foundation will remain for many generations to come and will preserve the ownership of Sakura Square for future generations.