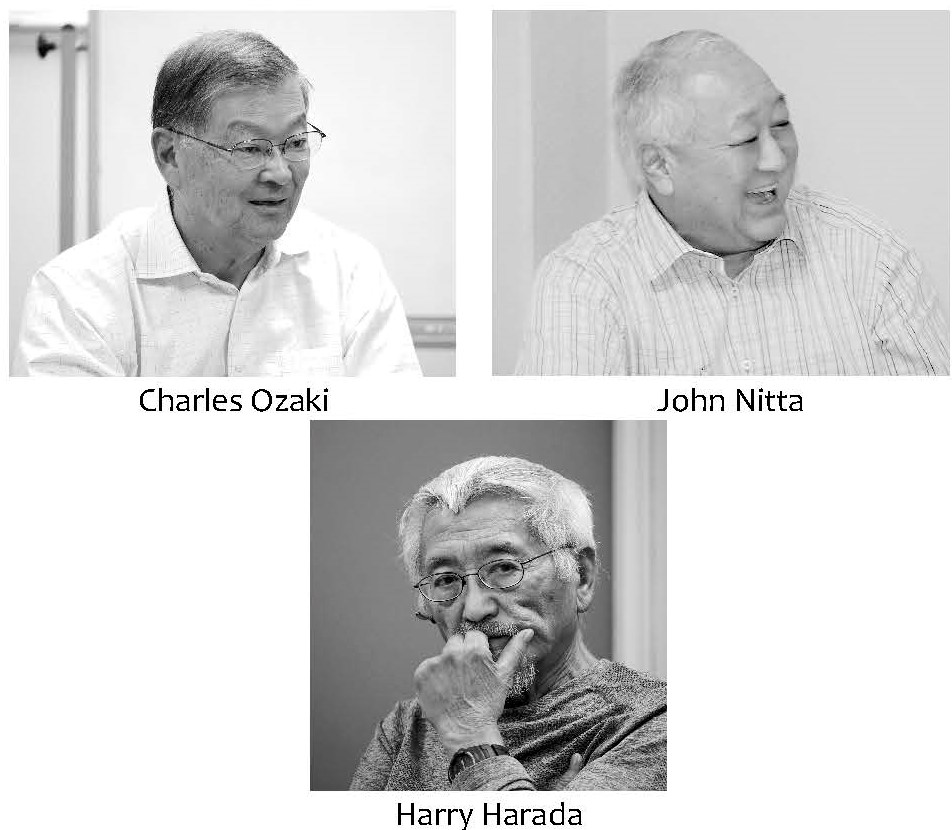 Harry Harada was born in La Junta, Colorado and is a retired medical technologist with Metro Wastewater Reclamation District. He has written numerous publications on wastewater efficiency, laboratory management and automation.
In Harry's early years, he worked long, hard hours farming, driving a tractor and operating combines. He was the salutatorian of his high school graduation class at Rocky Ford High School. Harry earned a bachelor's degree in Medical Technology from the University of Colorado where he was also a photographer/darkroom operator/microfilmer in the Department of Photography. Harry worked as a Medical Technologist and Supervisor of Microbiology at Children's Hospital in Denver. He ran a studio, Photography by Harada, for 13 years where he specialized in weddings and portraits. Harry was married to Nancy Lee Kiyomi Enomoto in 1963 and has two daughters, Stacey and Keri, and a son, Craig.
Harry has been a board member since 2001 when Sakura Foundation was still Tri-State Buddhist Church Apartments Inc. and its mission was to manage Sakura Square. Currently Harry serves on Sakura Foundation's Cultural Events committee. Being on foundation board gives Harry the opportunities and resources to pass on the Japanese/Japanese American culture. With the collaboration of Sakura Foundation and Sakura Square LLC, he looks forward to preserving the last small piece of Denver's historic Nihonmachi (i.e. "Japan Town") with the upcoming redevelopment of Sakura Square.
John Nitta is a Denver native, born and raised in the Tri-State/Denver Buddhist Temple when many youth activities were offered at the Temple, such as Scouting and sports, which made the Japanese American community very close.  Both of John's parents were very active members of the Temple throughout their lives and John believes this is the source of his desire to give back to the Temple now.  John went to the University of Northern Colorado where he earned a BA in Business Education.  He spent the next six years teaching Marketing and Distributive Education at Cherry Creek High School and Overland High School.
John then transitioned his career into Medical Sales.  He spent five and a half years in Pharmaceutical Sales with Bristol-Myers Squibb, working with many types of physicians, nurses and hospital administrators to negotiate contracts.  From there he found his last career passion working with bracing patients and amputees.  For the last 26 years of his professional life he helped build local companies:  one was eventually bought out by a larger national competitor and a second is still thriving today with five offices located from Colorado Springs to Lafayette, CO.
When John's father-in-law, Phil Miyazawa, decided to retire from the Sakura Foundation Board of Directors, he asked John if he would consider replacing him.  John feels that accepting this opportunity was one of the best decisions he ever made since he is able to work with a great group of people for an amazing common cause.  He feels it is important to work toward helping the Japanese American culture thrive.  This experience has also led him to become more involved at the Temple.  He is currently a member of the Temple Board of Directors and wants to make the Temple a better experience for its sangha.  He hopes to bring his years of experience from the business world to both the Temple and Foundation boards.  He appreciates the quality of people who volunteer on both boards and the amount of time they dedicate to both organizations.
John is married to Sherri and they have two married children and two young grandchildren.
Charles Ozaki's family was forced to immigrate to the United States from Lima, Peru during World War II and were kept in a detention camp in Crystal City, Texas.  After the end of the war, the Ozaki family was able to move to Denver where they found a welcoming and supportive community in the Tri-State/Denver Buddhist Temple (TS/DBT).  Charles appreciates the support he and his family received while growing up in the Temple community.  He has had the opportunity to give back by serving several terms on the Temple Board and previously as Board President.
Charles has recently retired from serving as the City and County Manager of Broomfield for the past eight years and was previously the Deputy Manager for 29 years.  When he joined the Tri-State Buddhist Church Apartments, Inc. (TSBCAI) Board (now known as the Sakura Foundation) he had the opportunity to participate in the work of the Strategic Planning Committee that led to the transition of Sakura Foundation into its current charitable entity.  He is looking forward to continuing to implement the Foundation's mission of supporting TS/DBT and celebrating the Japanese American heritage, culture and community in Colorado.
Charles appreciates the work of the founders of TSBCAI who, in order to save the Temple during the intense urban renewal days of the 1970s, created Sakura Square.  He is looking forward to the effort to renew the Temple and further the celebration of the Japanese American community in a renewed Sakura Square with the support of Sakura Foundation.