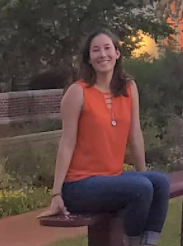 I am a Colorado Native who has lived in Denver almost all my life. I spent five years living in Los Angeles and experienced some of the Temples in that region and have spent a few weeks in Japan. I enjoyed exploring the Temples in these communities after having discovered a tradition of ringing the Bonsho at Tri-State/Denver Buddhist Temple in Denver.
I am half Japanese and half white. When I signed up for the Mirai Generations Leadership program, it was a little bit for leadership experience and education, but I found that I enjoyed the networking and growth aspect the most.
I applied to join the Mirai Generations Leadership Program (MGLP) in 2019 for the 2020 class. The way that I was invited was something I'll probably never forget; I had stayed after Dharma Talks on Sunday and decided to have some tea before I went into the rest of my day. I sat by a gentleman who started talking to me and brought up the MGLP. I unfortunately don't remember who this person was, but I wish I could give them more credit. They asked me to write my phone number and e-mail address down on a piece of paper, which I did and then I remember leaving thinking it would be great to put more leadership skills down on a resume eventually. I didn't hear anything back from that person for about two months and thought I had imagined the whole thing when I received an e-mail with instructions to apply. I still didn't really understand what this program was, but I am glad I took the chance anyway.
After understanding what the program was, what it was about, the time commitment, the service aspect and the learning aspect, I was excited to continue on. I think meeting and networking with all of the wonderful people in the community put me on a healthy track and was handled so gracefully during a world-wide pandemic. Classes that came before us didn't have the obstacles of Zoom meetings but they also probably didn't get to engage with enriching content from many different locations (I travelled to exotic Billings, MT and through Kansas and Florida to help a friend move during my tenure) the way that I did. It was really great to be offered such accessibility and I feel this set me up for success in the full-virtual graduate program in which I am currently enrolled.
Going through the program, I learned so much and was able to make intimate, wonderful friendships within my cohort and the alumni. The event that surprised me the most and where I learned the most was the retreat. It was the last thing I really got to do before COVID-19 shut the country down. I do remember talking to my class and the alumni, and deciding that we would be the Corona Class, and if we're ever invited to beers, that's probably what we should bring. I learned skills about styles of leadership and that really helped put a lens on understanding where some communication breakdowns were happening for me where I work. I also learned so much about Japanese American history in Colorado which I previously hadn't been as exposed to and for which didn't have many resources.
Since becoming asn MGLP alumni, I have been promoted into a systems engineering role at an aerospace and defense company and enrolled in graduate school for librarianship. MGLP helped me find focus, direction, and a wonderful community that I am so excited to support and be supported by. In 2022, I am hoping to be more involved in the community and to be of service in many different capacities. I would like to sincerely thank Stacey Shigaya for supporting and directing my class, being a great leader, a lovely strong and thoughtful person, and someone I look up to. I also would like to say thank you to Sakura Foundation for putting together such meaningful, engaging, and important content. I look forward to serving the community for many years to come.