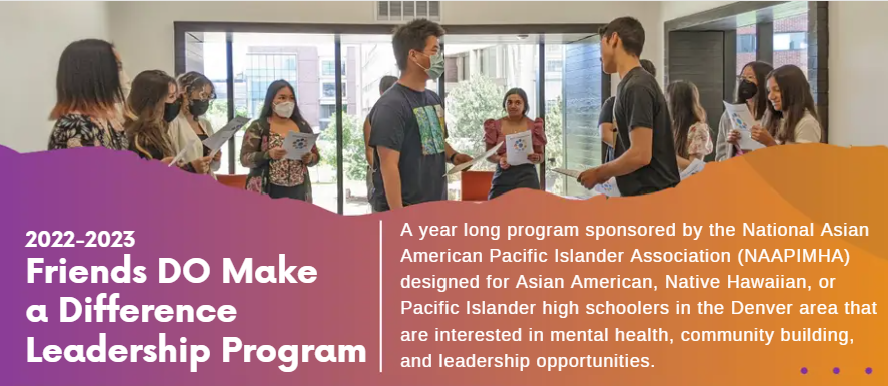 The National Asian American Pacific Islander Mental Health Association (NAAPIMHA) is the latest Sakura Foundation Grant recipient to support their Friends DO Make a Difference program.  Here is a message from NAAPIMHA about this impactful program.  Content warning – mention of suicide:
"I think mental health is an extremely important topic amongst Asian American teens but something we don't talk enough about. I attempted suicide last winter. Before that my parents had been telling me that I wasn't actually depressed and that I was over exaggerating, "like all teens do." I knew I was in a genuinely dark place and I want to help teens in similar spots get the resources they need… I don't think anyone should ever have to go through what I experienced. Stigma against mental health is extremely prevalent in Asian communities and I want to help remove as much of it as possible I am still struggling with my mental health problems and this program sounds like a great opportunity to do just that."
This is just one of many stories told by Asian American high school students who struggle with mental health problems, in direct contradiction to the myth of the "model minority" that portray Asian Americans as having few, if any, problems. In fact, suicide is the leading cause of death among Asian Americans between the ages of 15 and 24 with little being done to address the needs of the diverse AAPI (Asian American Pacific Islander) populations. It is imperative to start early and develop mental health leadership among our youth to help remove the stigma, gain a clearer understanding of what mental health is and is not, find ways to reduce mental health problems to begin with, and find creative solutions to healing. To address this issue NAAPIMHA developed Friends DO Make a Difference to work with Asian American, Native Hawaiian, and Pacific Islander high school youth across the Denver Metro area.
Friends DO Make a Difference focuses on the intersection of mental health, cultural identity, and dealing with the current political/social environment, including the rise in anti-Asian hate. It offers AANHPI students a valuable opportunity to work with their peers to explore their heritage, culture, experiences, and community. Aligning with the values of NAAPIMHA and Sakura Foundation, students in the program will also discover how celebrating who they are as AANHPIs plays an important role in their mental health and well-being. Moreover, because this project serves the broader Asian American, Native Hawaiian, and Pacific Islander high school community, it offers a powerful space for cross cultural sharing about the Japanese American experience which is vital to the sustainability of the community. More information can be found here.
NAAPIMHA is excited to partner with Change Matrix to learn more about the impact of this program through evaluation with students and their knowledge about mental health, how participating in the program helped their overall wellbeing, and other measures of success. We are grateful for the support from Sakura Foundation and their dedication to ensuring AANHPI high school students have the space and opportunities to discuss, learn, and uplift their mental health.