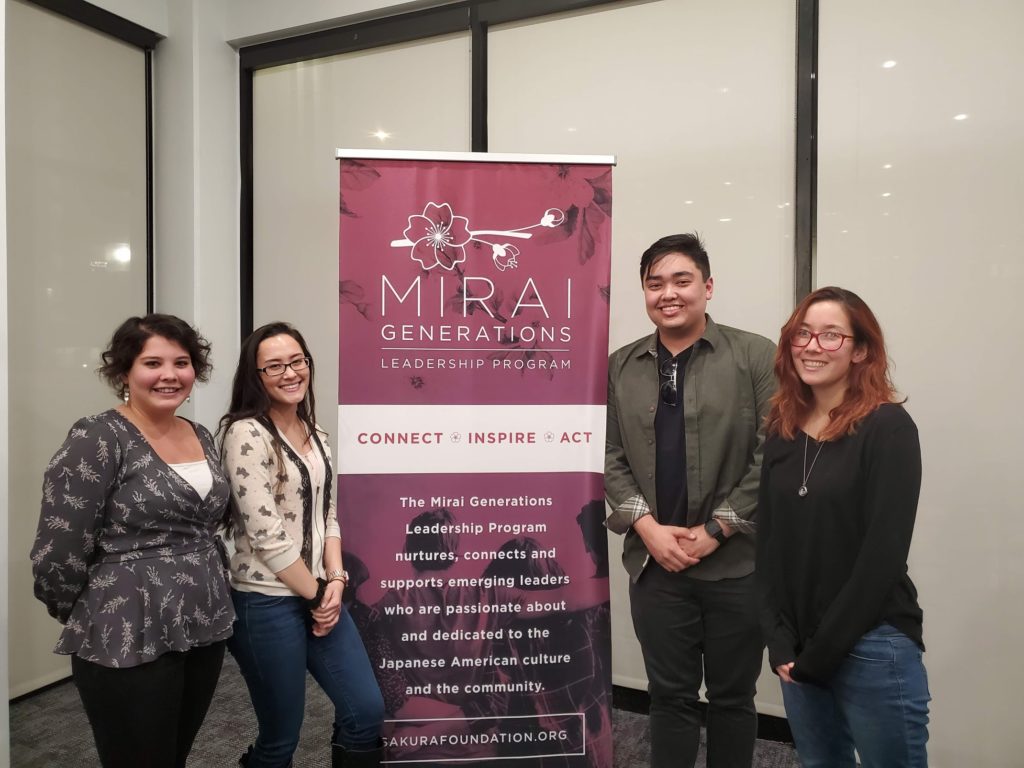 MGLP Class of 2020:  L to R Sachi Ishida, Alexandria Monson, Eric Berve and Jessica Harville

Sakura Foundation is pleased to announce the members of the MGLP Class of 2020:  Eric Berve, Jessica Harville, Sachi Ishida and Alexandria Monson!  We look forward to getting to know these young professionals who are enthusiastic, bright and eager to immerse themselves in our Japanese/Japanese American (JA) community, grow their leadership skills and make lifelong connections and friendships.
The 2020 MGLP began on February 12th with a Meet and Greet between the Class of 2020 and the MGLP alumni.  An overview of the program content was provided, as well as great conversations and delicious sushi!  The program runs through July when we will have a celebratory lunch and reflective presentations from the current class.
Here are some anticipatory thoughts from the Class of 2020 as they begin the MGLP:
"Learning and understanding how this community has managed to stay so close over the course of 100+ years might help me to further improve myself and find my own path."  – Eric Berve

"This program is important to me because it feels like the community size might be diminishing, and I feel society loses a lot of culture and tradition if individuals don't find a way to honor their heritage."  – Jessica Harville

"My hope is that MGLP will help me develop a sense of belonging, comradery and pride for the JA community."  – Sachi Ishida

"Through the program, I hope to grow as a leader and gain a greater understanding about the Japanese and JA culture, and I wish to be able to take that knowledge and pass it along to those that I lead – with hope to provide a safe and diverse environment for all who desire to learn."  – Alexandria Monson
Welcome to the MGLP Class of 2020!
http://www.sakurafoundation.org/mirai-generations-leadership-program/