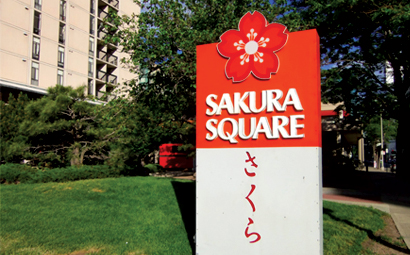 As many of you are aware, Sakura Square LLC, Sakura Foundation, and Tri-State/Denver Buddhist Temple representatives are actively working on the redevelopment planning. You may notice signs posted around the property regarding our application for a Certificate of Demolition Eligibility (CDE) for Sakura Square. If granted by the City of Denver, the CDE would provide us with a five-year window in which we can demo Tamai Tower and other commercial structures on the block. The CDE is the first step in a multi-year process regarding the redevelopment of Sakura Square, a project that will ensure the preservation of our Japanese American heritage for future generations. Most importantly, the CDE process will have no immediate impact on any of our existing commercial tenants or Tamai Tower residents as any demolition and construction are still years away. The Temple has previously applied for their CDE and has successfully received approval.
Sakura Foundation is the sole owner of Sakura Square LLC.
If you have any questions, please do not hesitate to contact Sakura Square CEO Gary Yamashita at 303-204-8039 or GaryY@sakurasquare.com. For additional information on the redevelopment, please visit SakuraSquare.com to view the redevelopment FAQs.