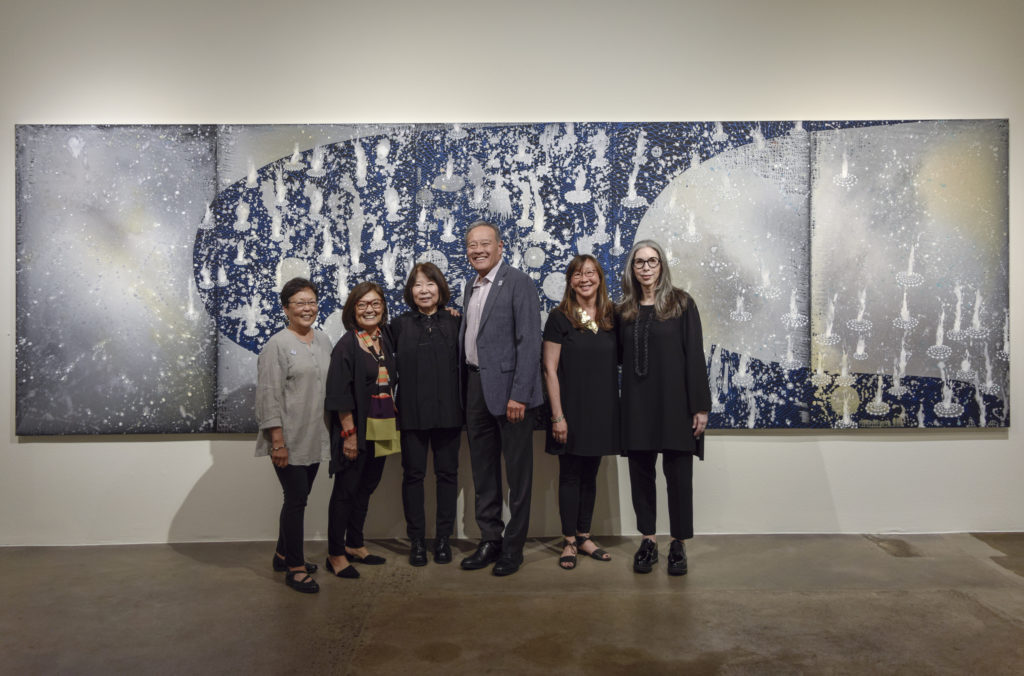 Image courtesy Robischon Gallery.
Here are the people in the photo (Left to right): Joni Sakaguchi and DJ Ida (Sakura Foundation board members), Barbara Takenaga, Gary Yamashita (Sakura Foundation Executive Director), Stacey Shigaya (Sakura Foundation Program Director) and Jennifer Doran (Owner and Director, Robischon Gallery).
In celebration of May as Asian Pacific American Heritage Month, Sakura Foundation was proud to host a reception and gallery talk for New York artist Barbara Takenaga.  The event was held on May 17th at the Robischon Gallery in downtown Denver.  The Foundation is grateful for the assistance and support of gallery co-owner Jennifer Doran and her team who were instrumental in making the event a great success.  The evening began with a reception which allowed the attendees to mingle while enjoying hors d'oeuvres and viewing the artwork.  More than 50 guests came to view the show and hear Takenaga talk.  The art lovers ranged in age from 12-year-old Sara Kato who was taken in by Takenaga's extraordinary technique to individuals many times Sara's young age.  There were those who have followed Takenaga's work for years, stretching back to her days of living in Colorado where she received her BFA and MFA at the University of Colorado at Boulder to individuals who had never seen her work but were interested in hearing what Takenaga had to say about her journey as an artist.
Takenaga is a highly regarded artist who moved to New York in 1985.  She split her time between her studio in New York City and her work as an art professor at Williams College in Williamstown, MA.  Takenaga has always pushed herself to explore new and exciting territory and began what she called her cosmic paintings in early 2000. Over the years her art has shifted from mesmerizing swirls and dots that draw the viewer in, to more expansive work of geometric patterns that undulate as she incorporates paint which subtly changes color as one views the painting from different angles.
An award-winning artist whose work has been shown in galleries from New York to San Francisco, Takenaga was described by Belinda Tate, Executive Director, Kalamazoo Institute of Art as being "…unquestionably among the distinguished ranks of American artists who have pioneered distinct visual language."  In a recent edition of the New York Times' What to See in New York Galleries This Week article, Ken Johnson wrote "The celestial sublime is Takenaga's thing…she represents visions of night skies in which meteor showers…and other astronomical phenomena are happening."
At the gallery event, Takenaga spoke about her life as an artist and admitted that growing up in North Platte, Nebraska did not afford her many opportunities to interact with other Japanese Americans.  She never considered herself a JA artist per se, but chuckled when she admitted that the Japanese sense of design somehow manages to find a place in her art, no matter how subtle, and has been evident in her artwork for years.  In spite of her success as an artist, she remains very down-to-earth and approachable.  Many guests enjoyed hearing about Takenaga's art but also about who she is as a person.  They found her not only very talented but also a very easy person with whom to converse.  People left the gallery happy with a newfound appreciation for a talented artist who is influenced by Japanese graphic design yet is clearly someone who is her own person.
Barbara Takenaga's exhibit will be on display in the Robischon Gallery through July 6, 2019.   The gallery is located at 1740 Wazee Street, Denver 80202.  Gallery hours:  Tuesday–Friday 11am to 6pm and Saturday 12pm to 5pm.  A book of Takenaga's masterful art is available online.